Taiwan Excellence Week at Indonesia 2022
Taiwan Excellence returned to Indonesia in 2022 with two OMO marketing events in Jakarta and Surabaya due to the slowdown of the of the COVID-19 pandemic situation. Taiwan Excellence award-winning products from 22 Taiwan brands of Sports equipment, health products, and also lifestyle products. Such as the treadmill, recumbent cross trainer, bicycle with the best quality and performance. They were presented to Indonesian consumers at this event which drew attention to over 14,000 visitors, and 80 media outlets.
Thanks again MOEA (Ministry of Economic Affairs, R.O.C.) to promote Taiwan Excellence awarded products. The Taiwan Excellence Awards were established in 1992 by the MOEA to honor locally made products of the highest quality and organized Taiwan Excellence Week to help promote Taiwan brands.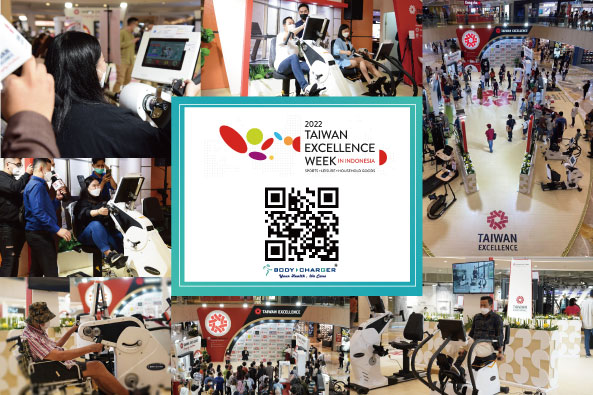 Body Charger also displayed Taiwan Excellence Awarded Recumbent Linear Stepper GB7007 and Total Body Trainer GB7009. They are known about the Rehabilitation Exercise and Senior Exercise concept and experience the therapeutic options
Thanks to the many customers, friends and partners that came by Body Charger booth.
Explore the Body Charger GB7007 Recumbent Linear Stepper.
https://reurl.cc/OAbe03
Explore the Body Charger GB7009 Total Body Trainer.
https://reurl.cc/OAbe03