Protect Your Immune System
It's never been more important to protect your immune system as we face both the COVID-19 pandemic and the flu season. Moderate exercise can boost immunity, 150 minutes of moderate physical activity or 75 minutes of vigorous physical activity a week.
You should consult with your physician and sport coach to consistent and engaging exercise prescriptions across to your personal statistical data and meets your goal.
"Custom Program" on the Smart Console allowed for the physician and health consultant create the tailor made workout.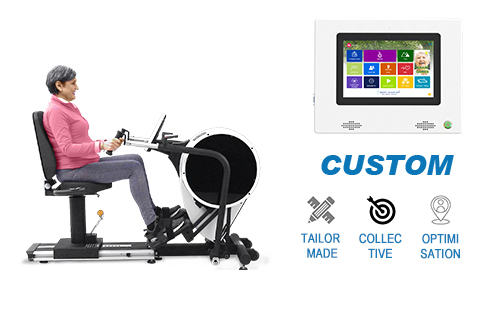 Body Charger Smart Console is with comprehensive exercise prescription software allowing fitness and therapist professionals to create specific exercises programmes to their clients. Utilizing our console physician can pick "custom"  from over 10 programs. Then, simply tailor the parameters (time, distance, calories, watts, RPM sets etc) and create the personalized workout program. This features empower physician or athletic coach to create customized programmes anytime, anywhere.
Physician can offer the end-to-end, customized-level support user would expect. The users' goal maybe lost weight, increase cardiac ability, build the strength, enhance the balance, etc. From initial consultancy and needs analysis, through program design and deployment, to explanation and support. These are all tailored to your needs and ensures your workout remain fully progressive.
In order to deliver the completed result, our Smart Console has function of exporting the exercise report. The exercise summary can track data of exercise adherence. These insights are key of proven progressive.
Explore the Body Charger Custom Program on Smart Console.
Premium Series
https://bodychargerfitness.com/portfolio-item/premium-series-product-list/
Active Series
https://bodychargerfitness.com/portfolio-item/active-series-products-list/