Five Popular Exercise Equipment for Elderly
Enhancing balance, coordination, and brain cognition with movement
Our biology changes as we get older, exercise and nutrition are essential parts of a healthy life. Researchers say seniors should remain as active as possible. In senior adults, exercise helps you live a longer, healthier, and more quality of life.
ĀnkěCare is the number one and only platform integrated magazine, website, social media and forum for managers in the long term care sector. The findings are described in a recently published article, " Five Popular Exercise Equipment for Elderly: Exercise adds movements that can enhance flexibility, dynamic balance and coordination, and brain cognition." in the magazine of ĀnkěCare.
Creating unique workout experience with Body Charger Fitness
Body Charger Total Body Trainer is also on the recommended list mentioned it can enhance mobility coordination and brain cognition.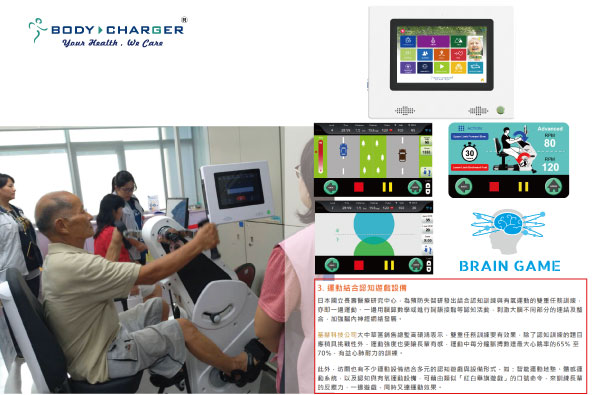 Here is the content from article.
WHO ( World Health Organization) released that worldwide, around 50 million people have dementia, the estimated proportion of the general population aged 60 and over with dementia at a given time is between 5-8%. Dementia has a physical, psychological, social, and economic impact, not only on people with dementia, but also on their careers, families and society at large.
According to the Japan National Center for Geriatrics and Gerontology (NCGG) several observational studies and RCT have proven that the length of education and exercise to be strong factors to suppress decline of cognitive function. Other potential benefitting factors are Mediterranean diet, cognitive training, and moderate drinking.
Body Charger Fitness creates unique functional exercise program, Brain Game. Brain Game is an exclusive and theory-based regimen that enhances progressive to optimize the effort user put in. It's motivating, reflective and inspiration. GB7009 Total Body Trainer Pro is with Independent Bi-Directional upper body ergometer and lower body recumbent bike all-in-one for a total body solution is the most versatile senior and rehabilitation product. From the asymmetries exercise with Brain Game program it's good for increasing coordination for far away dementia and maximal exercise result and strengthen your heart.
Explore the Journal on ĀnkěCare.
Explore the Body Charger GB7009 product information.
https://reurl.cc/7r519N