Cardiac Rehabilitation Recovery from Pandemic
Patients who survive will suffer from deconditioning due to lengthy hospitalizations, or worse, prolonged organ damage. Present in both patients with and without previous cardiovascular disease (CVD), the cardiac injury appears more often in patients over 50-years-old. Patients will likely want to return to their previous activity level, therefore a thoughtful and careful cardiac rehabilitation program is needed.
The unprecedented pandemic of the COVID-19 has challenged how and whether COVID-19 survivors are able to safely access resistance-based exercise training and cardiac rehabilitation (CR).  Rehabilitation therapy treatment can help people regain their physical strength, cognitive ability, and mental health after recovery discharged from the hospital.
Unless referred to an inpatient rehabilitation unit, post-COVID-19 patients will likely return home, requiring home rehabilitation rather than outpatient clinics. Exercise could be better for vitality and independent living.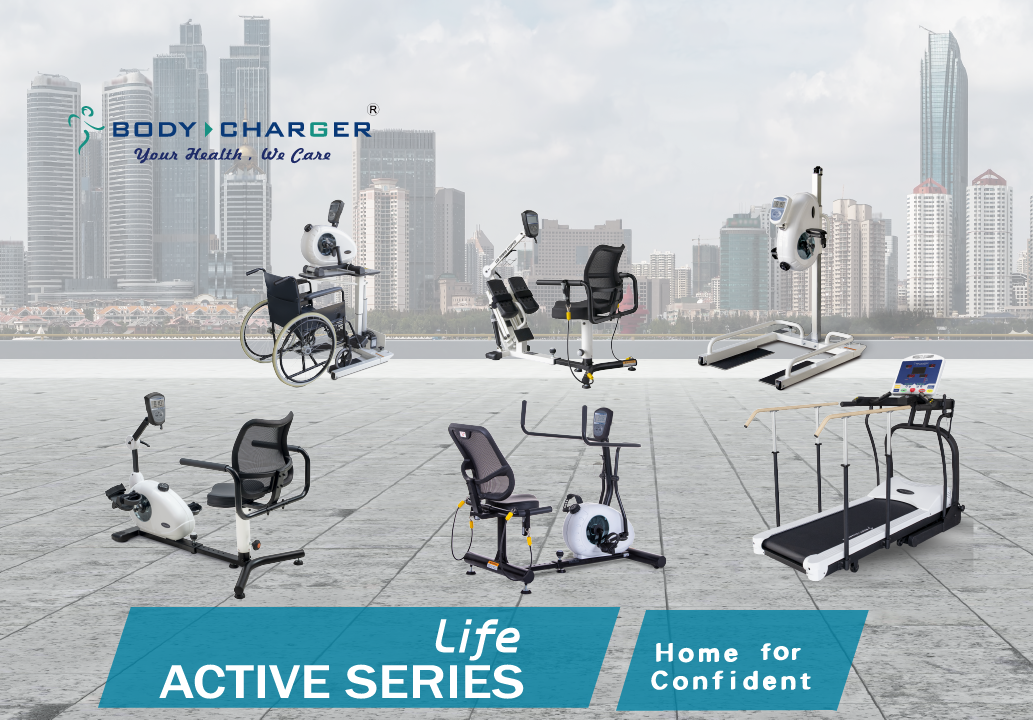 Rehabilitation in the Home enables patients to continue the rehabilitation and recovery phase within the comfort and security of their own home. Most important is home rehabilitation gave the participants the confidence to perform their treatment activities. By utilizing the information technology (IT) patients can save the exercise summary, and clinicians can monitor and progress their program from home.
Therefore, professional FDA-approved exercise equipment is your health partner.
Body Charger is a professional rehab and wellness fitness equipment manufacturer in Taiwan providing the widest range of recumbent cross trainer, recumbent stepper, upper body ergometer, UBE table, total body trainers and rehabilitation treadmills enhance health and quality of life.
About Body Charger Active Series- Life
You can facilitate exercise rehabilitation at home, in your preferred environment or at your own gym. Body Charger Active Series-Life provides home-use rehabilitation exercise equipment. People with rehabilitation requirements or seniors can do rehabilitation exercises at home.
Explore the Body Charger Active Series- Life  product information.
https://reurl.cc/OAbe03