Cardiac Rehabilitation Exercise
What is cardiac rehabilitation?
Cardiac rehabilitation is a program combining prescribed exercise training, emotional support and education on heart health to reduce your heart disease risk. Cardiac rehabilitation is meant to be supportive for the patient and family to help them get back, keep, or improve abilities that you need for daily life.
A cardiac rehabilitation program will likely progress through the three main phases:
Phase 1: Inpatient (In hospital patient period).
Phase 2: Outpatient (participating in a regular exercise program and then going home afterward).
Phase 3: On your own (keeping up exercises on your own).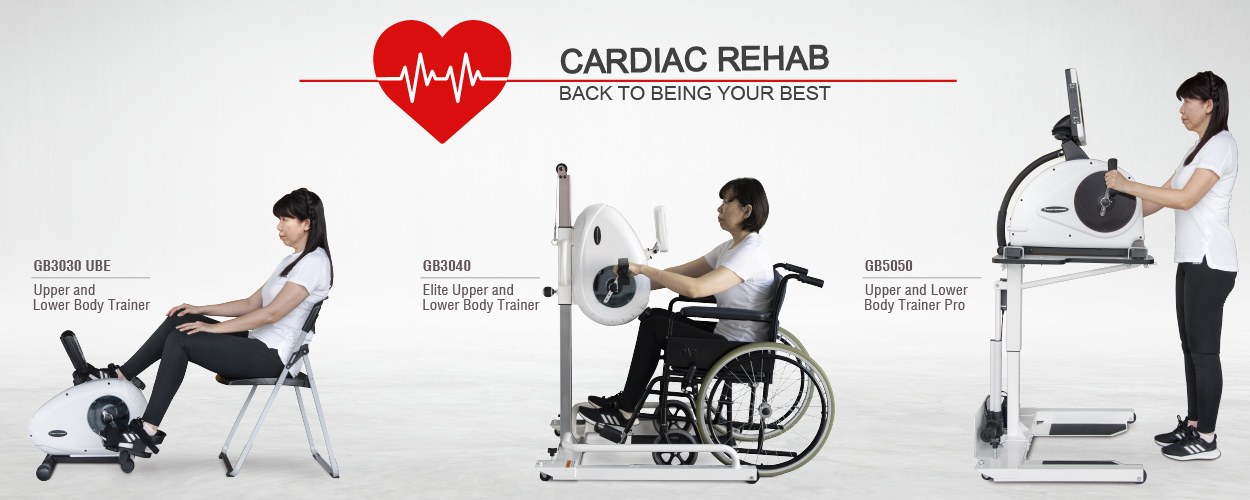 Who needs to have cardiac rehabilitation?
Cardiac rehabilitation can be suitable for people who have:
Heart attack
Heart failure
Angina
Coronary angioplasty and stents
Coronary bypass surgery
Heart transplant
Heart valve surgery
Implantable cardioverter defibrillator (ICD)
What does cardiac rehabilitation include?
There are three key parts of a successful cardiac rehabilitation program:
Cardiac rehabilitation program has three equally key parts:
Exercise: 

Exercise gets your heart pumping and your entire cardiovascular system working. You'll gradually build in strength and confidence.
Education: 

A key element of cardiac rehab is educating yourself on making healthy lifestyle changes, such as eating health, smoking cessation, and how to manage your risk factors.
Support: 

Stress hurts your heart. You may feel a mixture of emotions, like anger, frustration and feeling sad. Counseling can help you learn healthy ways to cope with depression and other feelings.
What are the advantages of cardiac rehab?
Over the long term, sticking to your cardiac rehabilitation can help you:
Manage your weight
Improving your physical activity habits
Improving your quality of life.
Improved patient mood
Reduced risk of death
Decreased heart attack recurrence
Decrease risk of coronary artery disease and other heart conditions
What Body Charger can help you?
By advanced Body Charger Upper and Lower Body Trainer assists to keep motivation level and boost their chances of returning to an active lifestyle quickly.
It's featured:
⭕ Portable: with transortation wheel.
⭕ Compact: space-saving design.
⭕ Diversity: Upper body workout or lower body exercise offers the unique experience possible to Boost Muscle and Body-Health.
⭕ Sustainability: No outlets required.
With medical professionals monitoring and regular exercise you can get stronger in just a few months and learn skills to improve your everyday life.
Explore the Body Charger Upper and Lower Body Trainer product information.
√GB3030 Upper and Lower Body Trainer
https://reurl.cc/Y9b2oD
√GB3040 Elite Upper and Lower Body Trainer
https://reurl.cc/pW2zba
√GB5050 Upper and Lower Body Trainer Pro
https://reurl.cc/Mbgaxv