Absolute Isokinetic Ergometer Cross Training
The isokinetic mode is for tests to measure maximum power and physical condition with a constant cadence. During athletic races, the ability to deliver high power outputs for a short period of time is crucial. The athlete himself determines his power output, as the Ergometer keeps the cadence constant. Ergometer is not only an ideal training device for joint-friendly endurance training, but also it from performance physiology are used to determine and measure various performance data. This additional data can complement the training goals of the users.
Body Charger GB7005 Recumbent Cross Trainer Pro is zero-Impact recumbent workout, safe for your knees, hips, and sculpts.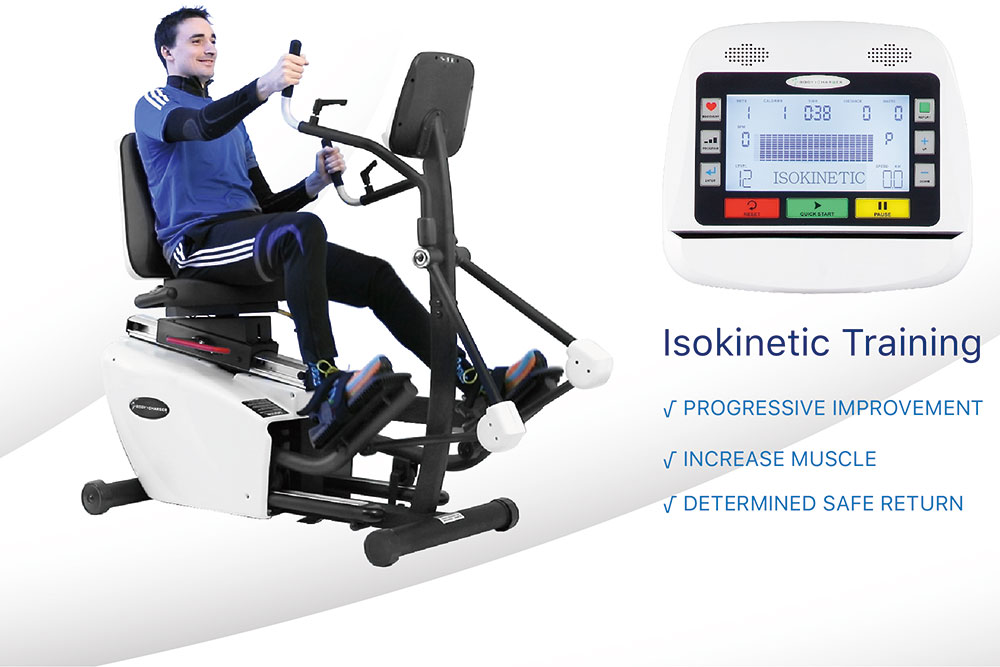 √ PROGRESSIVE IMPROVEMENT – In strength and cardiac fit training
The Body Charger GB7005 utilizes Bi-Direction Exercise, a dual direction exercise technology which provides the user to concentric and eccentric muscle exercises during a single training routine. This inevitable results in a greater improvement in strength, cardiorespiratory endurance.
√ INCREASE MUSCLE – Balance and coordination
Recumbent Cross Trainer is synchronized upper body and lower body movement enhance users' overall total body fitness. It's a great option for engaging multiple muscle groups as well as sustained contraction of primary muscles to promote natural movements of gait, especially for the elderly or those in rehab.
√ DETERMINED SAFE RETURN – Prevent injury and rehabilitation recovery
Isokinetic exercise refers to movement at a constant cadence regardless of the force applied. This is useful and to move in an effort to prevent injuries.
Body Charger GB7005 Recumbent Cross Trainer Pro provides exceptionally smooth performance on motorized electromagnetic brake system. It is very precise, the adjustment of the resistance is quicker done, be set from 250 Watt, and the calculation of the real (Watt) performance is more precise as well. The equipment corresponds to the standard EN957-1/5 Class SA.
For more Body Charger Fitness GB7005 product information, please visit https://bodychargerfitness.com/portfolio-item/gb7005ems-dx/