Body Charger Fitness exhibiting at MEDICA 2021
Body Charger is pleased to announce we will be participating in the 2021 MEDICA. Serving the fitness profession for more than 40 years, Body Charger manufactures and distributes equipment for cardiovascular machine, rehabilitative exercise equipment, multi-gym, body flexibility trainer, and exercise safety technology system.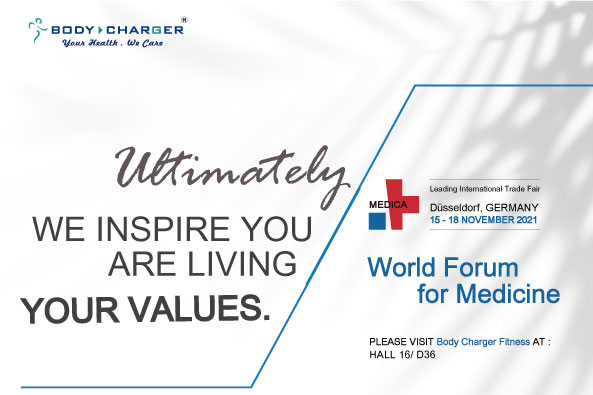 Body Charger has been a driving force of helping people of all ages to get moving, stay active, and fulfill their life quality. Our heritage empowers users with pioneering and inspiring concepts. We are enabling not only the most effective training but also creating a completely new workout experience with guaranteed results.
In addition, response to new technologies development, Body Charger Fitness equipment is compatible with intelligent i-Care Healthy Technology. i-Care owned by GEE HOO is the whole new training method that gives users confidence in their training. It helps them drive for the best health improvement in a specific workout. Health Check-Up and Suitable Workout that have been integrated into personalized programs in a safe, fast and convenient manner.
Visit Body Charger booth #2694280 D36, Hall 16 for more information about all Body Charger devices and products. If you are unable to attend the meeting and want to learn more about Body Charger products, visit our website, https://bodychargerfitness.com, or email us at bodycharger@geehoo.com.tw .