Essential for Stretching Your Body
A machine that can extend the muscles around the chest and make the right posture. It strengthens the cardiopulmonary function due to the movement of respiratory muscle concentrating on the chest and moves the shoulder blades backwards. It corrects posture such as stoop and opens chest and oxygen reaches the head and head refreshes. You can expect such as tiredness of the shoulder and swelling of the arm and a beautiful line of clavicle or a bust top-up.
The major effect is to maintain posture such as stern neck, shoulder stiffness, frozen shoulder, baseball shoulder improvement, bust top up effect, ect.,
STEP 1
Put your hands in place to alternative stretch range.
STEP 2
Stepping on the foot lever and feel the elastic resistance effect on the chest and major joint of upper body.
linked Arm and Leg Motion
Facilitating passive and assisted mobilization.
Limited Stretch Range
for rehabilitation safety.
2-Stage Foot Lever
to meet different user height.
F

oldable Foot Lever
Making it easy and safe to entry.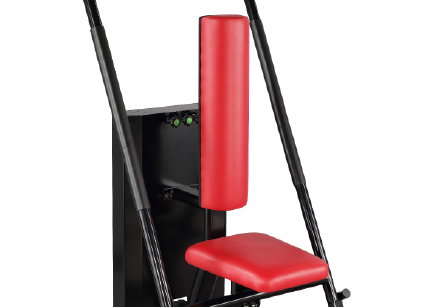 Long Enough Seat Lack with Circular Surface
Promoting the scapula expand backward.
Full Connected Frame
Achieves highly supportive and various arm position choice.
| TECH SPEC. | |
| --- | --- |
| Stretch Muscle Group | Pectorals |
| Width | 95 cm / 37.5″ |
| Depth | 135 cm / 53″ |
| Height | 165 cm / 65″ |
| Product Weight | 73.5 kg / 162 lbs |